Life in Country:
Living in the USA
A life in the USA means having a wealth of options. With a surface area of a little under 10 million square kilometers, the USA is the third largest country in the world. Make the USA your new home and find your dream job in the US state of your choice. Whether you prefer a bustling metropolis or a quiet town, everybody will find their dream location in the USA. Let yourself be inspired by other US immigrants: Where do most immigrants live in America? Now it's your turn: Make your own personal American dream a reality. A US Green Card opens all the doors to opportunity!
Table of contents
Green Card Lottery
Take the chance of living in the USA and apply for the official US Green Card Lottery!
Which U.S. state should I live in?
US immigrants are spoilt for choice: Which of the 50 breathtaking US states should you live in? America is famous for its diversity and if you have already been there – either as a tourist or a student – will know what we are talking about when we say how beautiful and different ever corner of the USA is. Climates and people change as you go from the east coast to the west coast. No matter where you go in the USA, you are sure to meet Americans who will proudly tell you their family's immigration story. According to the United States Census Bureau there were around 43.1 million first-generation (foreign born) people living in the United States in 2015 and they comprised about 13.5% of the U.S. population. And who knows, you may be next!
The population of America is just as multi-faceted as its climates, landscapes, flora and fauna! If you prefer the rugged mountains, isolation and an artic climate, then you might have Alaska in mind. Those who prefer the sun, beaches and a tropical climate will find everything they want and more in Florida. With a Green Card, your options are open!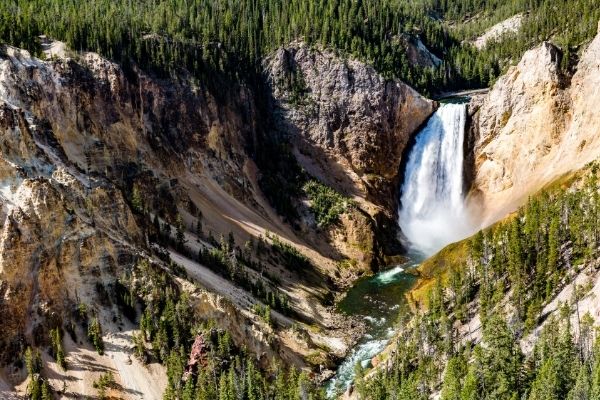 Yellowstone National Park in the state of Wyoming
The climate in the USA is one of the most popular reasons why so many people dream of living in America. Below is a rough overview:
South
In the South, the climate is more tropical with hot, humid summers and pleasant temperatures in winter. If you want to bathe in the sun all day without the humidity, then Arizona, southern California, New Mexico and Nevada in the southwest might be the perfect place for you.
Northeast
Residents in the Northeast get to experience all four seasons and the U.S. states of Maine, Vermont and New Hampshire are famous for their colorful fall foliage. Winter in the Northeast is often harsh with lots of snow and ice storms.
West
If you prefer high mountains and the alpine climate of the West, then you will feel at home in the Rocky Mountains. In the Rockies, the air is relatively dry and in winter you should expect heavy snowfall and below-zero temperatures.
Northwest
Washington and Oregon, located in the northwestern corner of the USA, are well-known for being rainy. The charming island-dotted Pacific coast and the Cascade mountains, however, make up for all the rain.
The most popular regions in the USA - Where do most immigrants live?
California
When it comes to the total number of immigrants, California is by-far the most popular state for immigrants. In 2014, California was home to 10.5 million foreign-born people making 27% of its population immigrants. The most well-known cities in California are San Francisco, San Diego, and of course Los Angeles. Who doesn't immediately think of Hollywood glam when they think of the city of angels? In recent years, California has also been immediately associated with the IT and high-tech industry in Silicon Valley.
TIP: Despite an 8-laned highway, dealing with traffic is all part of living in Los Angeles. Living close to your work has clear advantages and will save you time on your morning commute. Surprisingly, California also has many ski resorts.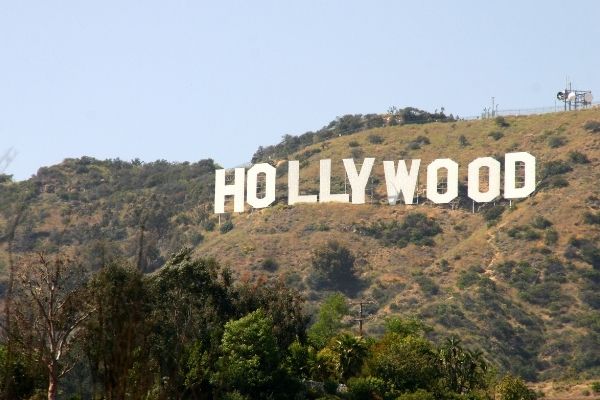 The Hollywood Hills in Los Angeles, California
New York
With 4.5 million immigrants, New York state ties Texas for second place. Everything that needs to be said about New York has already been said – but it is still not enough! New York City is by far the United States' biggest metropolis. The Big Apple is home to financial institutions, overcrowded streets, exploding housing prices and expensive restaurants and at its center is Manhattan. If you are searching for a little more peace and affordable housing, then you might be more successful in Harlem, Brooklyn or on the other side of the Hudson River in New Jersey.
Texas
Texas is also home to around 4.5 million immigrants. The cowboy and barbeque-loving state of Texas is the second biggest and the second most populated US state. The Lone Star State is famous for being the only state besides Vermont that was an independent republic before becoming a U.S. state in 1846. Its capital is Austin although most people are more familiar with Houston. It has the second highest economy in the United States which is not a surprise because of its diverse economy – which is good for immigrants. A large part of its economy is boosted by oil companies as well as a developing tech-industry.
Florida
The sunny beaches of Florida are home to 4 million immigrants who are living their American dream to the fullest! It is not nicknamed the Sunshine State for nothing: Nowhere else in the USA has as many sunny days as Florida. Its beautiful weather and beaches as well as Everglades National Park attracts many tourists a year – and they all want to stay!
The most popular cities are Miami Beach, Fort Lauderdale, South Beach, Tampa and the area around Naples on the west coast. Tourism and agriculture are big factors driving Florida's economy. Did you know that 50% of all citrus fruit comes from the Sunshine State?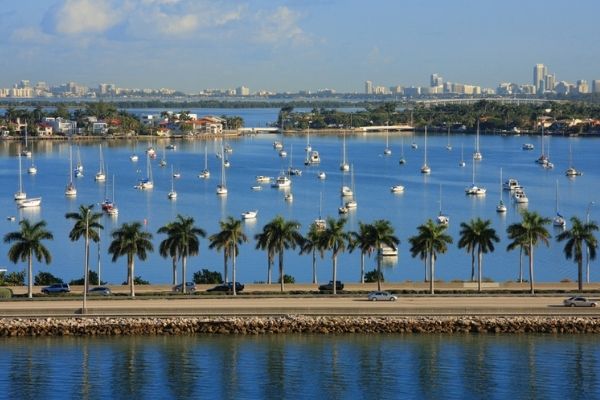 Miami in the state of Florida
Famous Immigrants in the USA
Many of America's most famous people were immigrants. From scientists, writers and architects to politicians, athletes and artists: The USA gives immigrants a place to shine and immigrants are what make America great. The list of famous US immigrants is ever growing, but we would like to give you a taste of two prominent figures in American history.
Albert Einstein - Physicist
Everyone recognizes the picture of the man with wild, white hair sticking out his tongue. Albert Einstein is the most famous and prominent physicist of all time. Nobody has influenced their field as much as this immigrant from Germany did. Naturally, every university in the USA wanted to host him as a professor. Albert Einstein first visited the USA in 1920 after Princeton University convinced him to come and give a lecture on his Theory of Relativity. Between 1930 and 1933, Einstein then traveled back and forth between Germany and California.
During his stay at the California Institute of Technology in Pasadena, Hitler came to power in Germany. On this day, April 17, 1933, Einstein refused to ever set foot in Germany again, moved to Princeton, New Jersey to work at the Institute for Advanced Studies and thus became a US immigrant. On October 1, 1940, he became a US citizen and lived in Princeton, New Jersey until his death.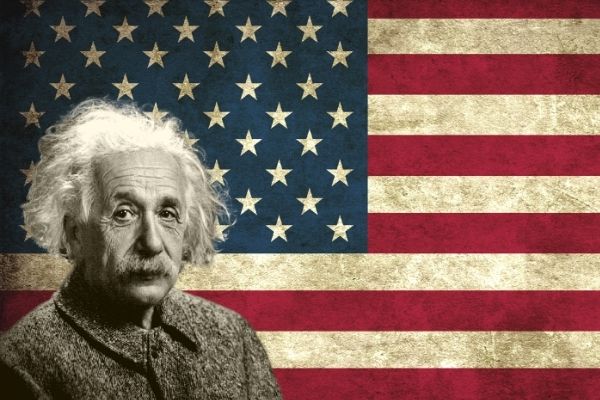 Albert Einstein emigrated from Germany to the USA in 1933.
Madeleine Albright - U.S. Secretary of State
Even though you must be born in the USA to become president, there are still many political positions that are open to people born outside of the USA. Madeleine Albright, who was U.S. Secretary of State under President Bill Clinton from 1997-2001, is a prime example of what immigrants in the USA can achieve.
Madeleine Albright was born in former Czechoslovakia and in 1948 came to the United States with her parents who were fleeing communism. Her parents settled in Denver, Colorado and in 1957, she became a US citizen. She studied political science and received her master's and doctorate degree from Columbia University in New York City. She worked for the National Security Council as well as Georgetown University as a professor. In 2001, she became the first female Secretary of State and a role-model for women and immigrants. Albright is still very active politically and was awarded the Presidential Medal of Freedom in May 2012.
Other influential US immigrants include movie producer Ang Lee, the actor and politician Arnold Schwarzenegger, the actress Charlize Theron, the soccer player Freddy Adu, the baseball player Sammy Sosa, the entrepreneur Liz Claiborne … and so many more!
The first step is moving to the USA and the second is deciding where you want to live. There are a few things you should know before you start searching for a house or apartment in the USA. Firstly, it helps if you already have a job because a sizable percentage of your salary will be used for housing in the USA.
Many Green Card holders live with family or friends when they first move to the USA. Even though it is possible to search for a house or apartment online (i.e. before you leave for the states), it is much easier to get housing when you are already in the USA. Moreover, most landlords want to meet their potential tenants personally and you want to see the place where you might be living in. Searching for housing in the USA works best when you are already in the USA.
As a fresh American resident searching for a house or apartment, you may be confronted with some unfamiliar words. So that you can concentrate on searching for a house rather than a word in a dictionary, we would like to introduce you to some English words you will come across. Below is a list of important housing terms as well as tips to finding your dream home:
Keep an eye out for "Apartment Available" or "For Rent" signs on buildings and community boards located in local libraries, grocery stores, community centers, etc.
Look in local newspapers for a section called the "Classified Ads". Here you will find a list of homes and apartments for buying or renting in your region.
If you would like to have someone search for you, look in the yellow pages (phone book) for "Property Management" or "Realtor". For a price, they will find a home according to your preferences.
Ask a friend, family or colleague if they know of any available apartments or houses.
There are many sites on the internet that list housing, but be careful to only visit well-known websites.
As a Green Card holder, you have the right to buy or rent property in the USA. There are a few things, however, that you should be aware of. Many landlords require you to show them your Social Security Card before signing the contract. Also, you will need to show proof of your salary. Usually, a pay slip will suffice. If you do not yet have a job or the money needed, someone else can vouch for you.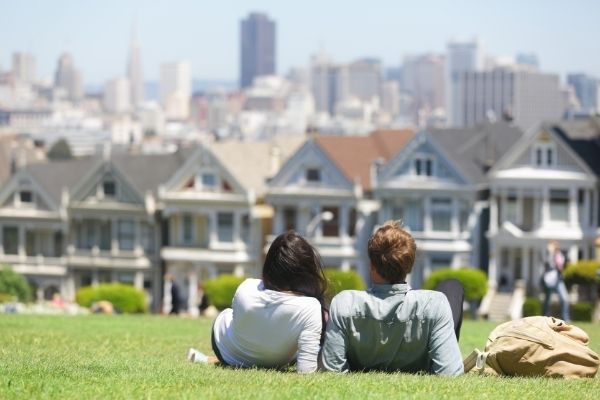 Rental contract
Before you sign any contract, you should make sure that you completely understand all the terms and conditions. How long is the contract for? If I move out, how early in advance must the landlord know (usually 30 days)? Who is responsible for repairs? Are utilities included in the rental price? Will there be additional costs (water, gas, electricity, trash disposal, etc.)? Take the time to go over every word of the contract and, if needed, have a native speaker help you.
Buying a house in the USA
For many people, buying a house in the USA is a big step towards fulfilling their American dream. Buying a house is a huge responsibility, but has many advantages. If you are interested in buying a house, you should contact a real estate agent to help you. It is best to ask friends or family if they have recommendations. Many Americans who buy a house take out a loan which is called a "mortgage". Make sure to get financial advice from a bank before making any big purchases.
If you do buy a house, the first thing you should do is buy the appropriate insurance. There are several types of housing insurances, e.g. for weather damage, fire or theft, so make sure you contact a trustworthy insurance salesman.
Tip: Don't forget to keep USCIS (U.S. Citizenship and Immigration Services) informed of your new address.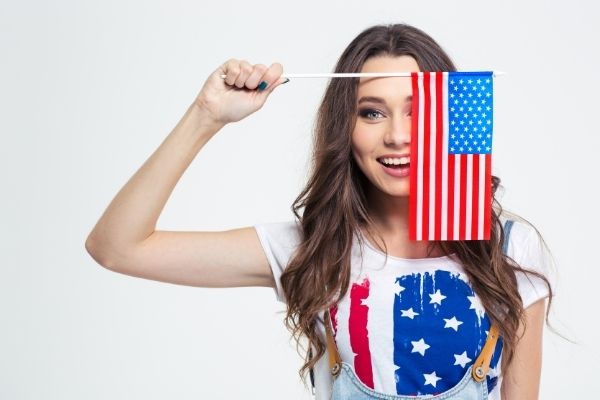 How do I become a US citizen
Participating in the Green Card Lottery is the first step to emigrating to the USA. As each day goes by, the USA feels more and more like home and before you know it, you will be applying for a US citizenship! Becoming a US citizen is the ultimate fulfillment of the American dream for many around the world.
Receiving the US citizenship is your way of showing your loyalty and commitment to the United States of America. By accepting, you agree to the responsibilities of being a US citizen and agree to respect the laws of the country and its peoples. A US citizenship gives you the same rights and privileges that all Americans have. A US citizen has more responsibilities than a Green Card holder, but the privileges are worth it.
All US citizens, for example, have the right to vote in all elections and help decide who will become President of the United States. Moreover, citizens can serve on a court jury and apply for federal and state jobs which are only reserved for American citizens. There are no limitations to the amount of time you spend outside of the USA if you are a US citizen. Furthermore, citizens can issue petitions to have family members come to the USA and get a Green Card.
The process of applying for US citizenship is called naturalization. Green Card holders or children of US citizens can apply for American citizenship. Generally, the following requirements must be met to be eligible:
You must be at least 18 years of age at the time that you apply (Application for Naturalization)
You must have lived in the USA for at least five years as a permanent resident (Green Card holder) or for 3 years if married to and living with a US citizen.
You must have lived at least 30 months of the last five years in the USA and 18 months of the last three years if married to and living with a US citizen.
You have lived in the same US state or USCIS district for at least three months before applying for naturalization.
You must pass an English and a Civils Test as well as prove your understanding of the US Constitution.
You must uphold and respect the laws of the United States of America and show what is called good moral character.
If any of the following points apply to you, then it is possible that your application process will be different:
You, your partner, child or deceased parent served in the US military.
You are a so-called US National. You or one of your parents were born in an American territory.
You are applying for right of residency under the Amnesty Law of 1986.
You are a refugee or asylum seeker.
You are married to a US citizen who is frequently deployed abroad.
You lost your US citizenship under an earlier law when you married a non-US citizen.
You are employed by a recognized American institute or international organization.
Those who successfully apply for a US citizen can be proud to call an American passport their own.
Dual Citizenship
Taking on the US citizenship is very exciting. Understandably, it also raises the question of what will happen to your current citizenship. For example, do you need to give up your citizenship to become an American? According to US law, becoming a US citizen does not mean having to give up your previous citizenship. This means that having dual citizenship in the USA is allowed.
People applying for a US citizenship, however, must find out if their home country allows for a second citizenship. Some countries require citizens to meet certain requirements before taking on a second citizenship. It is important to inform yourself of US as well as your home country's requirements so that you may successfully become a dual citizen!