Institute Name : TBS Business School (Barcelona)
Course Name : Master in Management
Course Type : Masters
Education Level : 7,8
Duration : 2 Years or 3 years if you take a gap year at the end of first year
Method of Delivery : Classroom
Pre Requirements : Bachelor degree, IELTS 6.5
Language Level : B2
Visa Type : 32
Application Fee :
Academic Deposit :
Fees : Euro 14300 Per year (you can make 3 payments) + Euro 700 for the gap year Annual
Intakes : September
Course Description :
A Master in Management at TBS Business School in Barcelona, one of the best business schools in Europe, is the ideal course to prepare you for the next stage of your career. Using a data-driven approach, the course will provide you with technical and analytical skills to make effective managerial decisions.
Our Masters in Management degree offers a diverse, multi-campus experience. It gives you the chance to study at up to 3 different campuses (from Barcelona, Paris, Casablanca and Toulouse), so that you can experience the best that each place has to offer you.
The program is also highly customizable, with more than 25 Professional Specialization Paths in the field of business management to choose from. Furthermore, you will undertake 2 curricular internships at renowned national or international companies.
With a practical focus at its core, our Masters in Management degree provides mentoring by both experienced academics and successful practitioners from the business world. In addition, you will also have the option of making the course a double degree and spending a year at one of TBS partner universities.
Moreover, TBS Barcelona provides a personalized coaching program to support you in areas such as choosing your Professional Specialization Path and the internship position that best fits your professional goals.
The Masters in Management follows a broad core curriculum on business management studies, enhanced by a structured series of elective options, serving as a springboard to leadership.
Going beyond a simple choice of options, you are able to structure your projects around visible learning paths that bring added value to your professional expertise.
YEAR 1 – Management Insights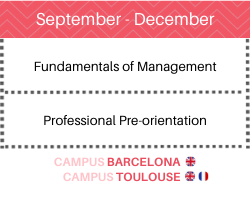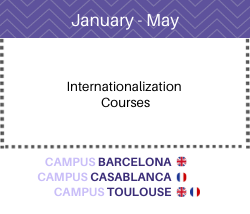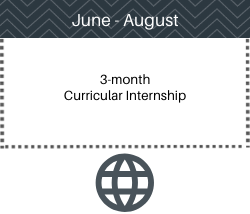 ---
YEAR 2 – Professional Specialization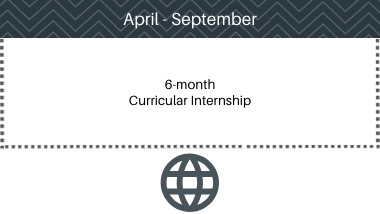 ---
*Non-contractual information. Courses are subject to change every academic year.
Gap year
Optionally, you can take a gap year between Year 1 and Year 2. This stage is designed to put into practice what you learned in Year 1 and redefine your choices for Year 2.
Moreover, you will have the chance to take a year-long internship and a semester abroad at a TBS partner university among which you can count on some of the best business schools in Europe.
Double degree
Alternatively, you can choose to spend Year 2 at one of TBS partner universities. In this case, you would be eligible to obtain 2 degrees: TBS Master in Management and an MSc or MBA from the corresponding partner university.
Please consider that to be eligible to obtain this double degree, you need to take the Gap year.
Academic content
Fundamentals of Management
In this block, you will acquire a solid base of business management studies. The following subjects are available at both Toulouse and Barcelona campuses and they are fully taught in English.
Business Analytics
Corporate Finance
Financial Analysis
Human Resources Management
Operations Management
Strategic Management