Institute Name : College of the Canyons
Course Name : Land Surveying - AS Degree
Course Type : Undergraduate
Education Level : 4
Duration : 2 Years
Method of Delivery : Classroom
Pre Requirements : High School Diploma, IELTS 6.0
Language Level : B1
Visa Type : 25
Application Fee :
Academic Deposit :
Fees :
Intakes : September
Course Description :
The Land Surveying Program offers both an Associate of Science Degree and a Certificate of Achievement.
The only difference between the Degree and the Certificate is the completion of the college's general education requirements. The Degree is 33 program units + 27 general education units (for a total of 60 units) and the Certificate is 33 program units.

Associate in Science and Certificate of Achievement: Land Surveying
The focus of the Land Surveying program is to provide the student with a thorough background in land surveying and mapping in addition to an introduction to the collecting, manipulating, formatting and mapping of geospatial data. A student who successfully completes the program will have the technical expertise necessary for an entry level position in the field of Land Surveying or related fields of geographic information systems specialists, architectural services, and engineering services. Land Surveyors typically measure and record property boundaries and the topography of the land covered by construction and engineering projects. Surveys are used to establish legal boundaries to prepare maps and exhibits, and write descriptions of land tracts that satisfy legal requirements. The program also assists students in preparing for the State Land Surveyor–In-Training and Land Surveyor's Exams.

Degree and Certificate Student Learning Outcome:
Students will be able to demonstrate proficiency in the core skills and knowledge required for employment in land surveying.

Program Requirements
Units Required: 33

SURV-101
Introduction to Land Surveying | 4 units
SURV-102
Advanced Land Surveying | 4 units
SURV-103
Advanced Applications in Surveying I | 3 units
SURV-104
Advanced Applications in Surveying II | 3 units
SURV-105
Boundary Control and Legal Principles I | 3 units
SURV-106
Boundary Control and Legal Principles II | 3 units
SURV-107
Construction Surveying | 4 units
SURV-110
Computer Aided Drafting for Surveyors | 3 units
GIS-101
Introduction to Geographic Information Systems | 3 units
MATH-102
Trigonometry | 3 units
Career Tree Levels
---
Land Surveying
Take on different challenges each day and work outside or inside to collect, analyze, and map geospatial data from field to finish.
Be of service to your community by combining modern surveying technology and history to visualize and map a wide range of environments.
Measure and record property boundaries and topography to create essential maps and exhibits.
Career Focus: Prepared for State Licensure, immediate employment, and further education.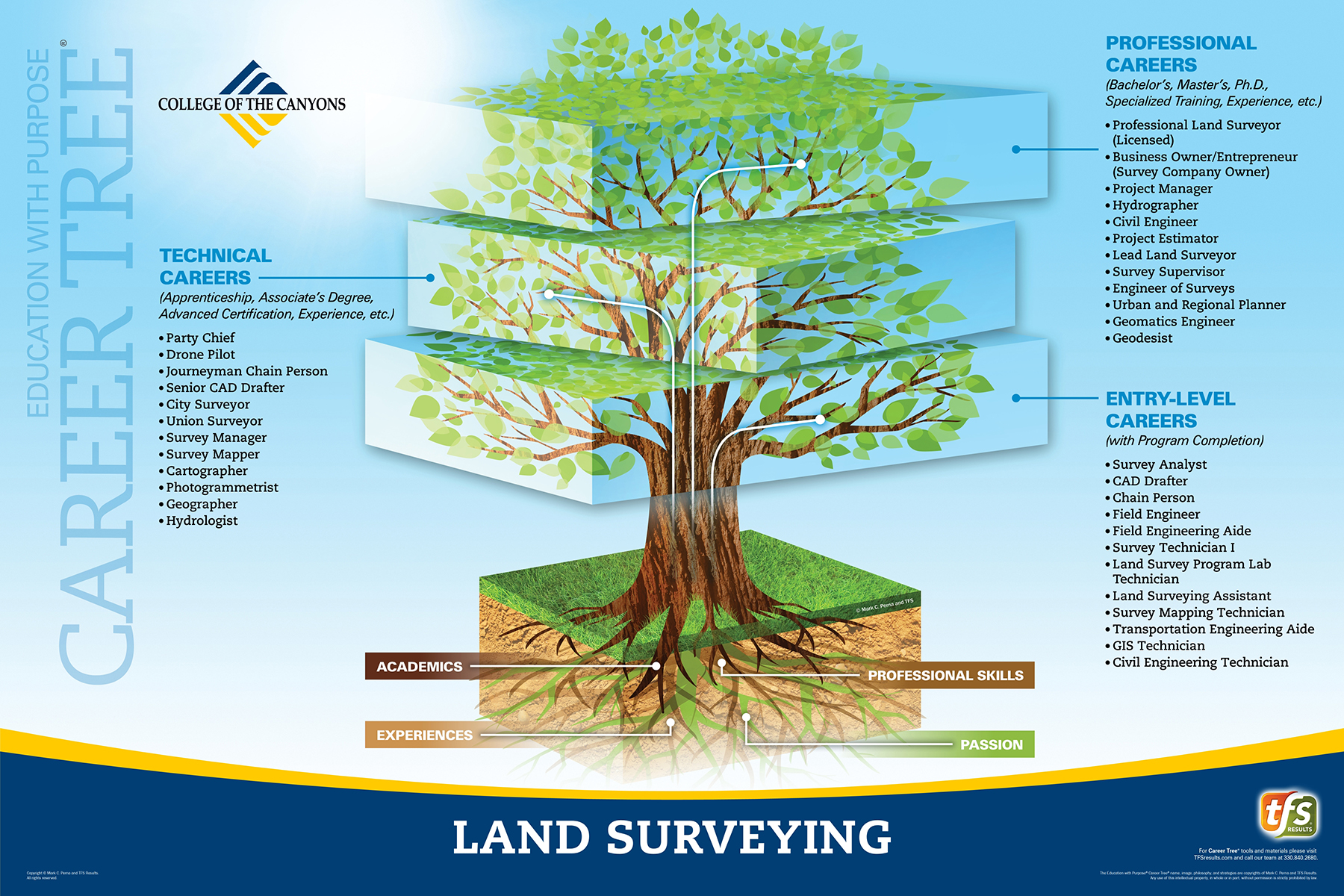 Level 1 - Entry Level Careers
Level 2 - Technical Careers
Level 3 - Professional Careers