Institute Name : College of the Canyons
Course Name : Construction Technology AS Degree
Course Type : Undergraduate
Education Level : 4
Duration : 2 Years
Method of Delivery : Classroom
Pre Requirements : High school Diploma, IELTS 6.0
Language Level : B1
Visa Type : 25
Application Fee :
Academic Deposit :
Fees :
Intakes : September
Course Description :
The Construction Technology Program offers both an Associate of Science Degree and Certificates of Achievement and Specialization.
---
(Note: The Associate in Science Degree requires 31 general education units + 29 program units.)

The Construction Technology program is designed to prepare students for entry-level positions in the building construction trades. The Associate in Science and Certificate of Achievement curriculum prepares students with basic skills required to enter a career in Plumbing, Electrical, Carpentry, or related field. The Construction Technology Certificate of Achievement stacks upon the Plumbing, Electrical, and Carpentry Certificates of Achievement.

Student Learning Outcome:
Students will demonstrate proficiency in entry-level skills and knowledge required for employment in a construction technology career field.

Program Requirements
Units Required: 29

CONST-010
Plumbing Technology I | 2 units
CONST-012
Plumbing Technology II | 2 units
CONST-020
Electrical Technology I | 2 units
CONST-022
Electrical Technology II | 2 units
CONST-030
Carpentry Technology I | 2 units
CONST-032
Carpentry Technology II | 2 units
CONST-101
Introduction to Construction and Construction Engineering | 2 units
CONST-103
Blueprint Reading for Construction | 3 units
MFGT-090
Measurements and Computations | 3 units
CONST-109
California Building Code | 3 units
CONST-122
Plumbing Systems and the Plumbing Code | 3 units
CONST-124
California Electrical Code | 3 units
Career Tree Levels
---
Construction Technology
Build a residential home from the ground up.
Explore and develop techniques in carpentry, plumbing, and electrical trades.
Work independently and in teams in all aspects of construction including framing, roofing, plumbing, wiring, and interior/exterior finishing.
Career Focus: Immediate Employment, Industry Recognized Certifications and Preparation for the General Contractors License
Construction Management
Evaluate the various operational requirements necessary to manage a construction project including safety, reporting, environmental protections, and general job site management.
Analyze, read, and interpret different views, details, and symbols used on construction plans.
Assess and identify common construction activities and resources needed to complete a construction project.
Career Focus: Immediate Employment and Preparation for the General Contractors License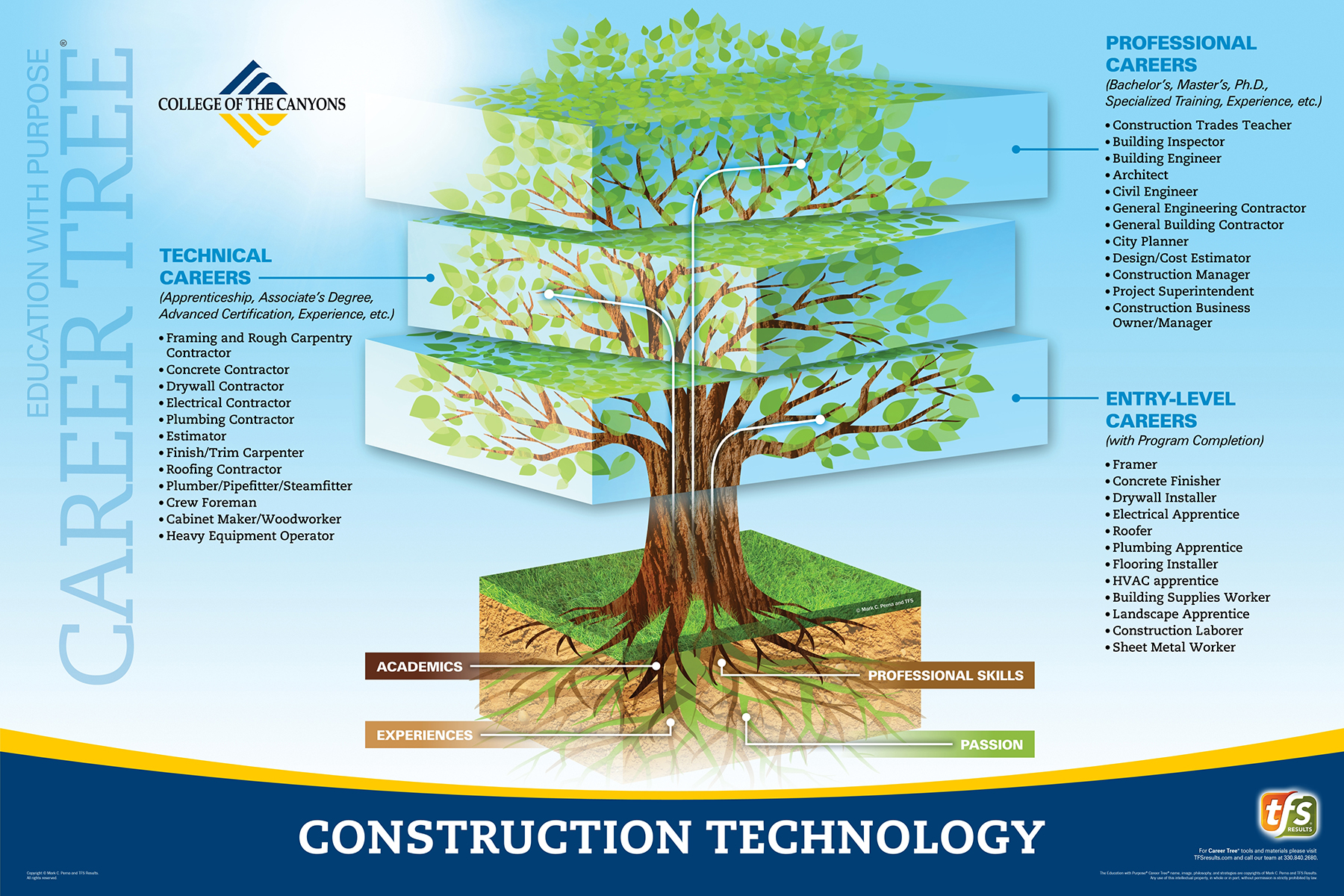 Level 1 - Entry Level Careers
Level 2 - Technical Careers
Level 3 - Professional Careers