Institute Name : TBS Business School (Barcelona)
Course Name : Bachelor in Business Management
Course Type : Undergraduate
Education Level : 4,5,6
Duration : 3 Years
Method of Delivery : Classroom
Pre Requirements : High School Diploma, IELTS 6.0
Language Level : B2
Visa Type : 32
Application Fee :
Academic Deposit :
Fees : Euro 10500 per year (you can make three payments) Annual
Intakes : September
Course Description :
The Bachelor of Business Management program has a 3-year structure. During the first year of the business management degree, you will learn the fundamentals of business; in the second year, you will consolidate these fundamentals and internationalize yourself through a semester-long exchange at a partner university; and in the third year, you will deepen your knowledge with one of our specialization tracks.
The future employability of the Bachelor in Management students is the principal factor that guides all our pedagogic activities. This degree creates competent professionals who can successfully fill the various roles at companies.
At the TBS Business School campus in Barcelona, ​​the subjects of the career in international business are grouped into the following blocks:
Marketing
Management control
Economy, finance, and law
Human Resources
Operations
Information management
Career Starter
Languages
FIRST YEAR: Business Fundamentals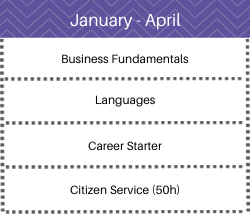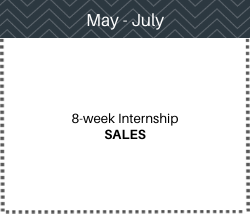 ---
SECOND YEAR: Solidification & Internationalization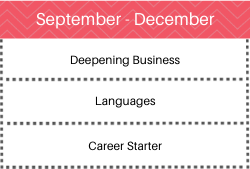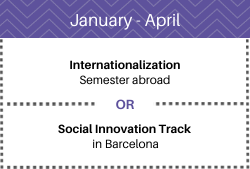 ---
THIRD YEAR: Specialization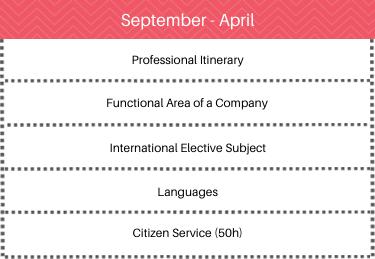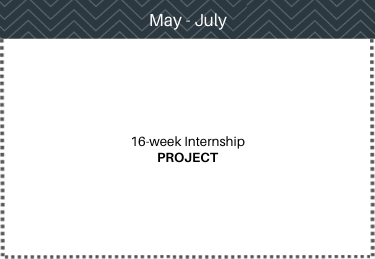 ---
*Non-contractual information. Courses are subject to change every academic year.
FIRST YEAR: business fundamentals
SECOND YEAR: solidification and internationalization
THIRD YEAR: specialization
Internship at companies
This bachelor in business management includes compulsory full-time internships in every year of the program. This adds up to three internship periods, which are full-time and happen after the lessons period has ended. In addition, they are progressive internships, which means that they increase each year in terms of duration and the responsibility you are given within the company.
As a result, graduates already have about a year of professional experience accumulated (compulsory minimum in order to graduate: 8 months) by the end of the Bachelor program.
The internships enrich the curriculum for the students and facilitate their integration into the workforce in a highly significant way. They also help students to discover what they do and do not like, as they work in various departments and sectors.
As long as the internships match all the school's requirements, they can be completed in any type of company, sector of activity, or country.
| | | |
| --- | --- | --- |
| Bachelor 1 | Sales or customer relations internship. | Minimum 8 weeks. |
| Bachelor 2 | Internships as an assistant in a functional area of a company. | Minimum 8 weeks. |
| Bachelor 3 | End-of-degree internships in project management. | Minimum 16 weeks. |
During the internships, students have follow-ups with their Career Starter coach. At the end of each internship period, an assessment of the internship will be conducted.
The school shares internship offers and company contacts with the students, along with a list of contacts for the internships carried out by former students. However, it is the responsibility of the Barcelona campus students to seek out their internships; an important learning experience before taking the plunge into the working world.
Citizen service
The Citizen Service that is part of the Bachelor program aims to instill a sense of responsibility and an awareness of the reality of today's society in our students through volunteering at solidarity organizations. Bachelor students must dedicate a total of 50 hours to supporting an NGO or association with social aims.
These are some of the organizations in which the TBS Business School students collaborate to complete their Citizen Service project.
Cáritas
Catnova
Pure Clean Earth
Amics de la Gent Gran
Afev
Acción Planetaria
Fundación Roure
Sant Egidio
Asociación Gabela
Ohlala Festival
Voluntaris Itinerantes
Voluntaris 2000
To complete the number of ECTS credits of the Bachelor in Management program, students can also join the Ambassadors project and become the best representatives of the school at open days, fairs, or information sessions.
Teaching and assessment methodology
The teaching methods at TBS Business School both for TBS master and bachelor students, are diverse and combine presentations, professional and researcher conferences, workshops for the development of management skills, case study work sessions, the intensive use of teamwork, and the development of projects.
There is no single method of evaluation, a combination of assessment instruments are used for each subject, including exercises, short tests, projects, essays, case studies, and exams. Unconventional methods like the assessment of participation, assessments from peers (between students), and self-assessment are also used.